It's a Friday, you're tired, the students are restless and the Zoom presentations are just not holding your class's attention. Slide after slide goes by and still they are failing to concentrate. It can be hard to create materials for the digital age that is fast, easy, and visually appealing.
Over the years I have tried many different websites but I have begun to use one over and over, simply because it allows me to create materials that are fun and modern – Canva.
Canva, is an online visual editor to create all types of content from slides to printed documents. They have ready-made designs were you can simply plug in your text and you'll get a fresh and modern looking page in seconds. Changing colours or adding elements like shapes are easy with the navigation of the right hand side.
There are stock images that can be used for free which will help to enliven your content and makes your students listen. For creating slides there arte pre-set animated slides where you need only to type in the content and away you go!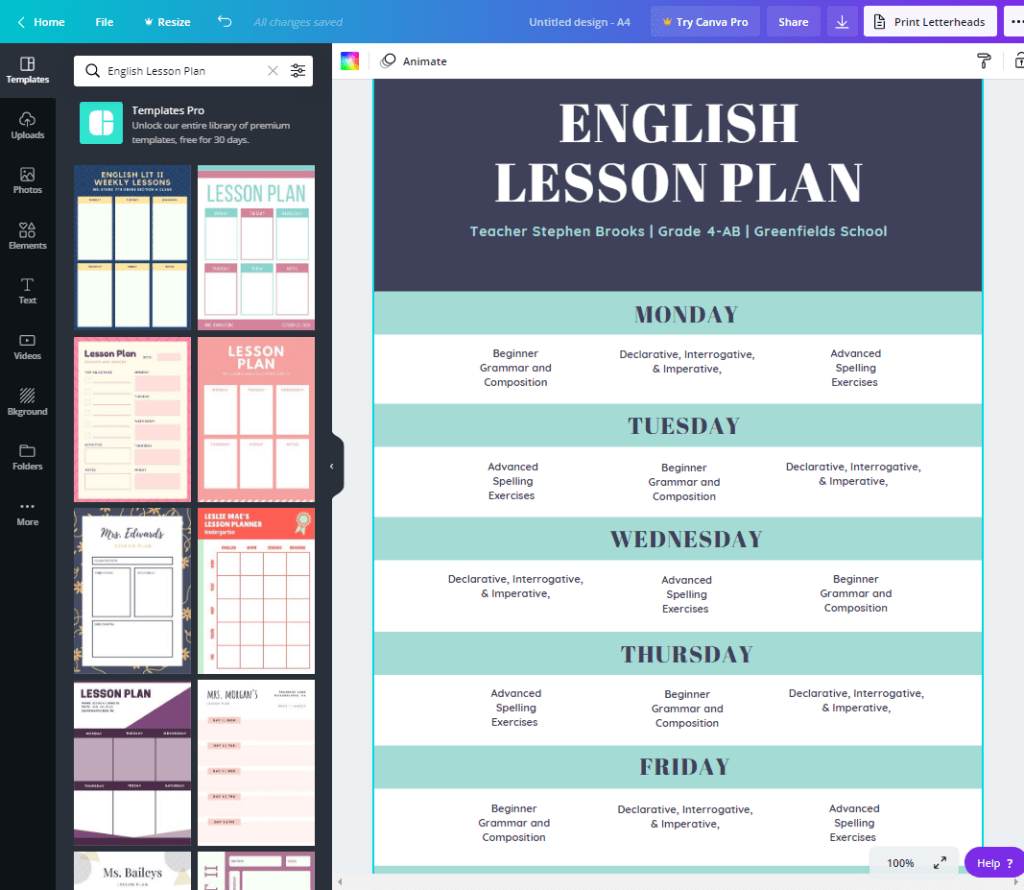 Design lesson plans to suit any subject

The best part of designing in Canva is working with templates. Our team of amazing designers have come up with a collection of beautiful and professional quality layouts that are just waiting for you to edit and customize to fit your needs. Whether you're teaching toddlers shapes and colors, cultivating the curiosity of high schoolers taking up science, or guiding university-level students through art history, you can easily find a template suitable for your needs. You can even choose from weekly lesson plans or daily ones.
From there, it's a simple matter of customizing your chosen template to exactly suit your style and taste. Once you're happy with your design you can even turn it to your very own personal template to be reused for your next classes. Canva saves your designs on cloud so you can always go back to edit and update your designs when needed. Simply log in to your account from any computer or even design and edit on the go by downloading Canva's iOS and Android apps for free.
Create a structured lesson plan

Creating a lesson plan in Canva can help you to use your class time effectively. Most of our lesson plan templates follow a clear pattern, arranged in easy to edit grids or text groups. This pattern makes it easy for you to identify key activities like your lesson introduction, lesson objectives and guided activities and helps to keep you organized while teaching class. Of course, you can always change things up to to suit your own teaching style. Go ahead and rearrange the grids, try looking for other grid patterns that have different size boxes to help you focus on focal points. Play with font styles and design techniques like adding background colors to highlight important activities.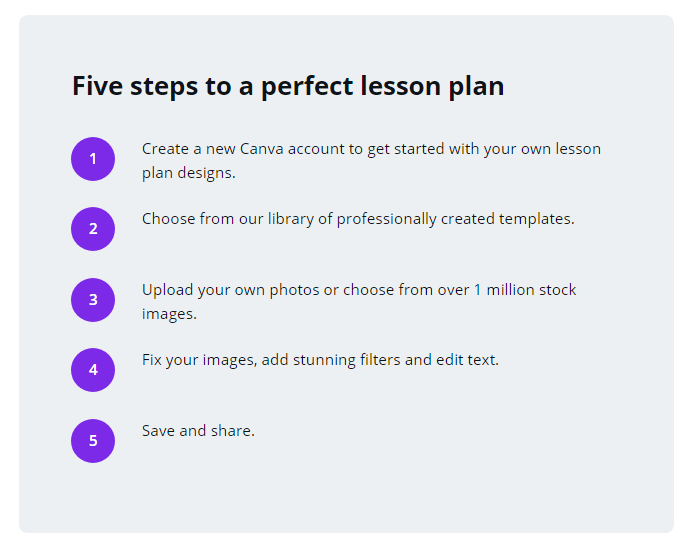 Share your design and collaborate with your co-teachers

There may be times when you need to share your lesson plan with a substitute teacher or with your co-faculty to get feedback and suggestions. As an online design tool, Canva makes collaboration as easy as sharing a link to your design. Simply click on the share button and choose whether to give editing or viewing permission before sending out the generated link.
You can also easily print each day or week's lesson plan by saving it as a print-ready PDF file. This will ensure the highest resolution so you can have a beautiful and easy to read lesson plan to refer to while teaching class.