An electric vehicle (EV) is a complex machine that is the product of many years of research and development. The largest car companies in the world are continuing to create new technology to further enhance the features of electric cars to improve energy efficiency, range, comfort, and to reduce weight. In recent years, the main obstacle for EV development has been creating a battery that is compact while also providing a similar driving range of petrol-driven cars, which is around 400 miles.
A petrol-powered car gives off around two tonnes of CO2 per year on average, some argue that electric vehicles are more environmentally friendly than "fossil fuel cars", do you believe this is true? There is an assumption that electric vehicles run from clean, renewable sources and so emit no greenhouse gases. This is true as the car does not directly create any greenhouse gases or fumes from burning petrol in traditional combustion engines.
What is often ignored is that in some countries, like the UK, electric power for the grid is mostly generated from gas power stations, which is a fossil fuel. By charging our electric cars, we are therefore using fossil fuels to charge the car's battery. Does this make having an electric car, overall, beneficial for the environment? Again, it depends. In most cases, for long motorway journeys where there are fewer turns and the petrol engine is running for long periods of time, the efficiency of a traditional car is clear as it produces less CO2 per Km.
But, in city driving conditions, where vehicles frequently start and stop for traffic lights, they tend to drive at lower speeds, and journeys are much shorter, the electric car outperforms a petrol-driven car.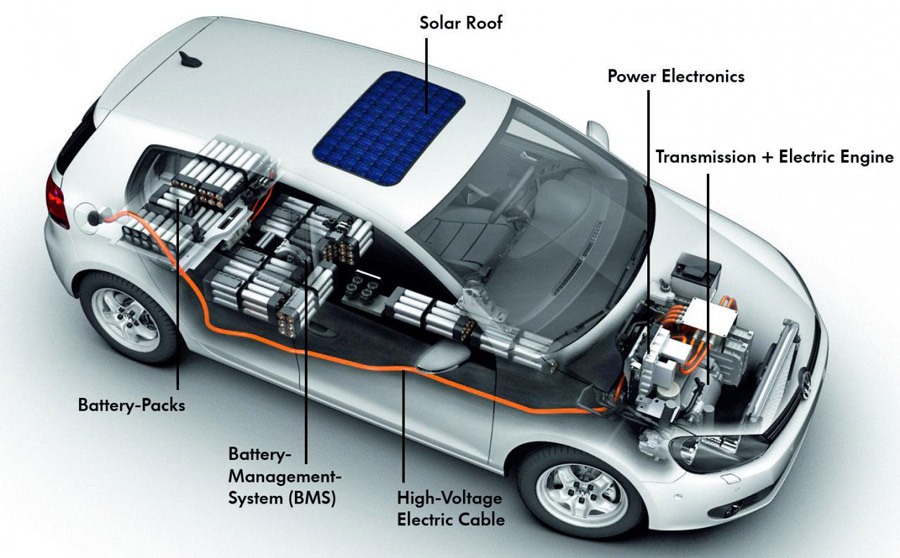 How does electric car production affect the environment?
Car battery production is a manufacturing process that is gradually scaling up in size and speed across the world. Each battery is of significant size and weight (around 80kg) which means there is a requirement to find an efficient supply chain to process and build the batteries needed. Finding a way to save money on using less energy to make, transport, or use cheaper labour can result in millions of dollars saved in the total cost.
Countries rich in minerals often mine the raw resources and then transport them to the nearest port in their country. From there, it is usually shipped to China as the country has the largest battery factories in the world. The materials are processed and sometimes then moves again to a 3rd country, like Australia, or Germany, for further manufacturing work. They can even be sent back to China for additional manufacturing steps. Other components are also shipped to China to finalise the product. Once the battery is complete they are shipped across the world. This does not include other components to make a complete car. So, because the world has a global, yet integrated supply chain, it is easy to see how for every piece needed to make an EV car, trains, ships, and planes are needed to transport materials.
That said, EV cars are still relatively better for the environment. Though the total carbon footprint of these cars is high, over the course of a car's lifetime (which is around 15 – 20 years) the total environmental impact is lower than a traditional car. The next challenge is to find sustainable methods to power these factories (and the wider global transportation system) to use low-carbon alternatives.
Teacher Resources
Level: Intermediate: B1/B2
Running Time: 90 minutes +
For more information on how to use this in the classroom, please have a look at our detailed post on using free lesson plans.
Key Terms
To understand this debate it is useful to learn the following words and concepts.
Electrification
Lithium, cobalt
Ores, Mining
Carbon intensive
Supply chain
Components
Processed
Pros and Cons of Electric Vehicles
Read more
The Arrival of the Electric Car
Power Play: Elon Musk, Tesla, and the Bet of the Century
A Brief History of a Perfect Future: Inventing the World We Can Proudly Leave our Kids by 2050
Images of people used under license from Generated Photos
What do you think? Leave your comments below!